Having Fun With Interior Paint Colors
With all the serious issues we have to contend with in life and at work, it's nice to have a little fun at home. And the best way to have fun with decor is through color?by using bright, lively hues. Here's how to have fun with color in your rooms.
Fun colors have a way of jumping out at you. They're everywhere: in advertising, signage, packaging, and even on the toppings bar of your favorite fro-yo shop. And they make their presence known in the paint aisle, too. Step into your local home center and you'll be drawn to the bright, vivid shades with descriptive names like raucous orange, fun yellow, and cosmic blue. The best way to use these hues is in multiples?the more the merrier. An all-blue room will get a little sad and moody, but if you use equal amounts of blue, yellow, green, orange, and candy red, you'll create a creative, lively space.
Fun Colors By Room
Fun Living Room Colors
To inject some fun into your living room, start with the floor. Look for a boldly patterned area rug filled with candy shades like lemon, orange, bubblegum, grape, and blueberry. You can then pull these hues into throw pillows, artwork, and accessories. A heaping portion of pure marshmallow-cream white on the walls, the sofa, the fireplace surround, and the chairs will keep all the colors from running amok.
Fun Bedroom Colors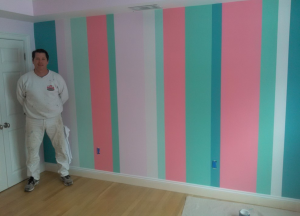 Children aren't the only ones who want fun color in their bedrooms. Take a page from their coloring books and apply crayon-box hues in your room, too. Do you reach for carrot, burnt sienna, and bittersweet? Those analogous shades will make a toasty warm bedroom when you pick one of each for bedding, curtains, and wall paint. Or, if you like to mix it up, select from each of the primary shades — brick, dandelion, and pacific blue, for instance — to pick colorful patterns for a quilt and area rug.
Fun Dining Room Colors
Retro colors can really animate a dining room, and you can have fun re-creating the schemes of different eras. Start with a bold focal point, such as a light fixture to center above the table, in 1950s cherry red, '60s orange, or '70s avocado green. Then pull in complementary colors. In a '50s scheme, the diner-style chairs might be covered in cobalt-blue vinyl. Or, you could place a midcentury-modern brown teak table under the '60s chandelier. Avocado green and harvest gold were a trendy 1970s combo you could replicate with table linens or collectibles.
Fun Kitchen Colors
The Victorians knew how to have fun with color, pairing pink with mustard and blue with khaki, and that legacy lives on in historic homes across the country. The slightly patina-ed but still vivid shades make excellent palettes for kitchens, which remain at the center of homes in every generation. Preservationists and paint companies publish restoration color palettes you can match for cabinets, trim, and wall colors. Paint the furniture as well, coating bar stools or the table in rich, timeless color.
Fun Bathroom Colors
It doesn't take long for a steamy shower to create a tropical environment in your bathroom. Go with that inspiration and pick the fun colors of an island getaway for decoration. Pink hibiscus, yellow bananas, turquoise waters, green palm fronds all can become paint colors for the vanity and walls. Mix in other flora, fauna, and water hues in towels, accent tiles, and accessories.
Fun Entryway Colors
Nothing says "the party starts here" like an entryway filled with fun colors. Make a statement with a light-hearted saturated color, such as cherry red or turquoise, that coordinates with hues found in adjacent spaces for a cohesive color scheme that flows from space to space.
If you or someone you know are interested in having an interior room painted, please contact us to request a free quote or call (781) 337-4889.
Thank you!
As we always say ?we love what we do and you will too?!
By Peter V. Vitello
Professional Painter
Co-Owner of J.W. Graham Painting Company
#JWGrahamPainting
#PaintColors
#InteriorPainting