Peter Vitello's Ride
This is the reason I ride!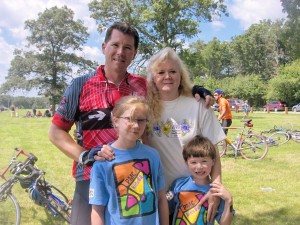 Dear family & friends,
On August 1st & 2nd, I will participate in my 16th?consecutive Pan-Massachusetts Challenge?(PMC). I will be cycling the 192 miles from Sturbridge to Provincetown to raise money for the Dana-Farber Cancer Institute to continue the fight against cancer. Again this year I will be riding with my brother Paul on his 17th ride, his son and my nephew Nicholas on his 5th?ride. We are committed to?each?raising $4,500.00.
I recently heard a quote from the book The Emperor of All Maladies: A Biography of Cancer.?The book chronicles in part the work of Sidney Farber and the birth of the Dana Farber Cancer Institute. But a quote early in the book will strike a chord with all of us???
"In 2010 about 600,000 Americans and more than 7 million humans around the world will die of cancer.
In the USA, one in three women and one in two men will develop cancer in their lifetime."
After the 2014 ride,?the PMC gave a record gift of $41 million to the Dana-Farber Cancer Institute (DFCI), bringing the total to?$455 million for adult and pediatric cancer care and research through the Jimmy Fund.? This year?s target is $45 million and will put the PMC at a staggering 1/2 billon dollars raised!?Treatment improves, lives improve and someday there will be a cure.? I pray that someday is soon.
The ride for me this year is again about the highs and lows of this disease. We all have family, friends & co-workers affected by cancer including my father-in-law Bob who lost his courageous fight with cancer, 2 days before his 60th birthday. But a constant high point, year after year, is the progress made in finding ways to treat and develop cures for cancer, made possible through your incredible generosity.
A few interesting facts since my 1st ride in 2000:
~ Our daughter Amanda was 16 months old, today she is 16 years old andrecently completed 10th grade and drivers-ed !?
~ Peter was born in 2003, just finished 5th grade and can?t wait to join team Vitello someday to continue the tradition of fighting to find a cure for cancer.
~ I passed the $53,750 lifetime?fundraising mark and expect to pass $60,000 this year thanks to you!
~ My Dad was diagnosed with bladder cancer in 2008, today he remains cancer free and was removed from his regular treatments!
~ My Mom, diagnosed with breast cancer in 1993 and lung cancer in 1995? continues to remain cancer free!
I?m not a doctor or scientist but I can ride a bike. In the face of a disease that leaves me feeling so helpless, riding the PMC gives me hope!? I am truly blessed to have friends and family like you, and I am asking again for your support for my PMC ride.? I promise that I will ride for all of the people that connect us through the battles won and lost against cancer.? Every one of the names you have sent to me over the years, all have been and will continue to be written on my bike jersey to ride with me in August.? I am honored to ride for each of them. Whether you are able to donate or not, please send me any names you would like added to my jersey.
I am always so amazed and humbled by your generosity and your kindness.??? Thank you so much for joining me in helping to find a cure for cancer, God bless you all!!!
Many, many thanks????.Pete, Jacqui, Amanda & Peter Vitello